Long lost Saturn RPG sees new life, and an American release on 3DS.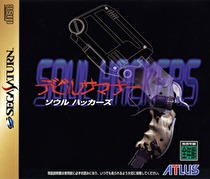 Shin Megami Tensei: Devil Summoner: Soul Hackers for the Nintendo 3DS is coming to North America in the Spring of 2013.
The game, released this past August in Japan, is an updated port of the Sega Saturn and PlayStation title released in 1997 and 1999 respectively. It is a first-person dungeon-crawler that has you controlling a group of hackers as they attempt to save humanity from an ancient society. Demons encountered within the dungeon can be fought or conversed with, a successful conversation will have them join your party.
New to the 3DS version of the game are 30 additional demons to the 100+ found in previous versions, a new animated opening, a new theme song, faster loading times, and improved controls. Also new is a demon that levels and grows only through StreetPass encounters with other owners of the game.