Let the Mega Man 2 versus 3 debate rage on!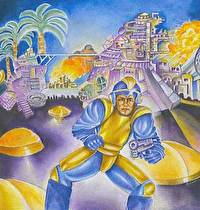 The entire set of Mega Man games for NES will be making their way to the 3DS eShop's Virtual Console service. While various installments have been available in Europe and Japan, this marks the series' arrival on the North American eShop. Mega Man will be available for purchase on December 27, with its sequel seeing release a little over a month later on February 7. Mega Man 3 onward will be released "in regular intervals throughout 2013," according to Capcom's Brett Elston.
The original Mega Man was released in 1987, with its sixth and final NES installment released in 1993. The series stars an android named Mega Man whose mission is to stop the nefarious Dr. Wily and his band of killer robots. The series is noted for its difficulty, and for the power-ups Mega Man can yield upon defeating Dr. Wily's creations.
The announcement comes just in time to make Mega Man's 25 Anniversary.
The NES series of Mega Man titles is also available on the Wii Virtual Console, however, Mega Man 6 is absent.