Mirror of Fate on the wall, who is the 3DSest of them all?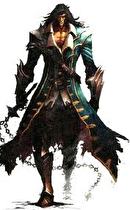 Castlevania: Lords of Shadow - Mirror of Fate is scheduled to arrive on store shelves March 5.
MercurySteam, the studio also behind the PS3 and Xbox 360 Lords of Shadow titles, puts players in the shoes of four Castlevania veterans; Simon, Trevor, and Gabriel Belmont, as well as Alucard. With them, players unravel the mysteries of Gabriel's fate after the original Lords of Shadow, and partake in an adventure that leads into the upcoming Lords of Shadow 2.
Mirror of Fate is a side scrolling action game, with a focus on exploration and melee combat. It is the first Castlevania title developed for the 3DS, and succeeds three titles for the original DS.