The wait won't be much longer!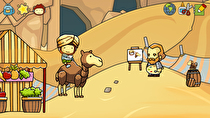 Scribblenauts Unlimited will be published by Nintendo across Europe. This was announced during the latest European Nintendo Direct, hosted by Nintendo of Europe president Satoru Shibata.
Both the Nintendo 3DS and Wii U versions of the game will be marketed and distributed by the company. According to Nintendo of Europe, the game will hit store shelves on February 8. Scribblenauts Unlimited was a launch title for the Wii U in North America while the 3DS version came out earlier the same week.
Check out our review of the Wii U version of the game here.