The game is coming in a few weeks' time.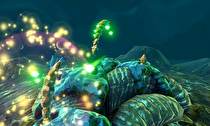 Nano Assault EX will be released in the coming weeks, and hopefully before the turn of the year. The developer has recently posted updates on their official Shinen Games Twitter account.
The reworked Nintendo eShop release for the 3DS was announced earlier this year, alongside with Nano Assault NEO for the Wii U version of the digital store, released as a launch game for North America. Shin'en hopes to have the 3DS game released for the year closes, though they can't confirm it just yet.
Nano Assault EX will boast the same 32 stages as the original game, as well as modes like Mission Mode and Boss Rush. It will also come with new features, including support for the Circle Pad Pro, an all-new survival mode, more online rankings, improved gameplay and updated graphics.
If you are interested in what we thought of the original game, feel free to read Neal Ronaghan's review.