Crashmo N the Boys.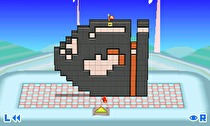 Before the madness of Black Friday takes hold of you in its firm, rough hands, what better way to spite it than to spend your money on non-discounted items! While those suckers are out there getting $20 HDTVs, you can be at home enjoying Crashmo, Zelda II: Adventure of Link, 3D Mahjongg, Ninja Master's, and Spirit Hunters Inc.: Light/Shadow.
eShop Games:
Crashmo - $8.99
Everyone's favourite muwashi-wearing, block-pushing, little creature dude is back! This isn't just Pushmo 2: Push Harder, this is Crashmo, where even gravity is conspiring against you. You don't know defeat until it comes crashing down on you. Push and pull your way to victory, but make sure you're newly deformed structure can support itself, lest it comes falling down. And this ain't London Bridge, it's a giant dinosaur. Watch yourself out there.
Zelda II: Adventure of Link - $4.99
Before "Bigger, Better, More Bad Ass" was the edict of sequels, the NES generation of sequels lived by "Weirder, What do I do, What the hell". Zelda II wasn't just more dungeons and bigger Stalfos, it made changes to the core of what the original Zelda was. Gameplay is divided into two parts, an overworld map that acts as a HUD with random enemy battles, and side-scrolling sections where you interest with NPCs. As well, a life system was introduced alongside leveling up mechanics. It's certainly an oddball in the series, but still a great entry.
3D MahJongg - $4.99
It's time to get your 3D MahJongg on. Scour the mountain of tiles before you, searching ever so diligently for that matching piece. With over 200 levels, you'll enjoy 3D MahJongg through a variety of themes; Asia, farm, Princess, sea, casino, and zombie.
DSiWare Games:
Spirit Hunters Inc.: Light / Spirit Hunters Inc.: Shadow - $7.99/800 Points

Your parents/significant other likely has your Christmas presents tucked away somewhere. An attic, closet, vault, what have you. Spirit Hunters Inc. finally gives you the chance to snoop under a rather creative guise. "MOM! I'm not snooping! I'm playing a video game! Leave me alo--ohhh! Scribblenauts Unlimited..." See, Spirit Hunters Inc. is an augmented reality game. Using the DSi or 3DS's camera, you search the real world for Spirits, of which there are 96 in all. Catch them, and use them to battle other wandering Spirits. There are two versions of the game, Light and Shadow, and each houses six Spirits unique to it. Trade with your friends to get them all.
Wii Virtual Console:
Ninja Master's - 900 Points
Help Sasuke stop the dastardly deeds of Nobunaga in this NeoGeo fighter. Switch between wielding your weapon and fisticuffs at any point during your matches. It's gonna be a long road to Nobunaga, but if Pokemon can take him out, well, you should be able to do it too.