The Donkey Kong Country games are no longer available to purchase.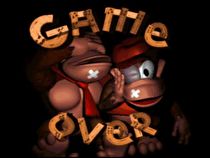 As of right now in the United States, the trilogy of Donkey Kong Country games for the Super Nintendo have been removed from the Wii (and thus, the Wii U) Virtual Console download service.
The European Virtual Console will continue to sell the games until November 25, so those who don't want to miss out will have to act quickly. Those who previously purchased the titles will still be able to access them.
Donkey Kong Country, Diddy's Kong Quest, and Dixie's Double Trouble had been available for almost the entire life of the Wii console, and there is currently no known reason why the games are on the chopping block. Some have speculated Wii U compatibility problems or licensing issues with developer Rare as the cause, whereas more optimistic outlooks have taken it to hint at a possible HD collection in the future.
Efforts to contact Rare for comment have thus far been fruitless.