It's a pretty expensive update. At the least Epic Mickey: Power of Illusion demo is free.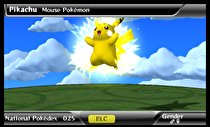 Hope you're sitting on a pile of e-bucks, because the eShop just got real. No more fooling around guys, Nintendo is playing for keeps. They want all the monies. On eShop, you've got Pokédex 3D Pro, Dress to Play: Cute Witches!, Johnny Hotshot, and Paper Mario: Sticker Star. Over on the DSiWare side of things, there's Come On! Dragons and Smart Girl's Playhouse Mini. Don't think the Wii is getting ignored, because Sengoku 2 is heading its way. And if it's free you're looking for, there's an Epic Mickey: Power of Illusion demo!
eShop Games:
Pokédex 3D Pro - $14.99
Think you can be a Pokémon master? Do you have what it takes to catch and train wild animals to do your bidding? Ready for a life without school, where your only lessons come from the mean streets of Johto? Get one step closer with Pokédex 3D Pro. A catalog of over 640 Pokémon, it details everything you would want and need to know. Plus, test your Pokémon know-how with included quizzes. Don't know your Pikachu from a Raichu? You've probably got a wealth of problems, but Pokédex 3D Pro can help!
Epic Mickey: Power of Illusion - Demo
Grab your paintbrush, Mickey, because the world has called upon you once again. Steer Mickey through the worlds of Aladdin, Peter Pan, and The Little Mermaid, and hope you can right what has been turned wrong. DreamRift is behind this Castle of Illusion inspired romp, so be prepared for some terrific spritework. Epic Mickey: Power of Illusion is due in stores November 18.
Dress to Play: Cute Witches! - $3.99
Don't let films like Hocus Pocus fool you, witches can be pretty darned cute. With 50 outfits to fool around with, you can come up with thousands of cute combinations. Once your witch is ready to go, take her on a cute side-scrolling adventure, avoiding cute octopuses and gathering as many cute stars as possible. Cute? Cute!
Johnny Hotshot - $5.99
Your local arcade may have gone bust eight years ago, but the adventure can live on in Johnny Hotshot. Help Johnny escape the confines of the arcade cabinet that sucked him into this western-themed world. Grab your six-shooter and take aim at baddies and bombs in this Point Blank-influenced shooter, pard'ner. Take out those targets before they take YOU out.
Paper Mario: Sticker Star - $39.99 (November 11 release)
Mario falls flat once again in Paper Mario: Sticker Star. Help Mario put an end to Bowser's reign of terror in this paper-thin adventure. In combat, Mario's moves are determined by the stickers he finds, and as with Pokémon, the shinier the better. It's a combat system that really sticks, if you know what I'm sayin'.
DSiWare:
Come On! Dragons - $1.99 / 200 Points
With a name like Come On! Dragons, you know to expect some dragons, but what else is there? How about a single archer, defending his castle from the oncoming hordes? It'd be easy to be overwhelmed, were it not for your traps! Place your traps on the battlefield and take aim with your bow, all while defiantly yelling "Come on!" in their smug faces.
Smart Girl's Playhouse Mini - $1.99 / 200 Points
Featuring six mini-games, including drawing, find the differences, and dress-up, Smart Girl's Playhouse Mini is a title aimed specifically at young girls. It promotes itself as a game parents can safely introduce their daughters to.
Wii Virtual Console:
Sengoku 2 - 900 Points
There's this idea that if someone from the 1950s came to 2012, they'd die at the sight of an iPad. It works the other way too. Warp me back to 157X and I'd keel over instantly from my reliance on antibacterial gels. Luckily, there's dudes like the the two in Sengoku 2. In this 2D brawler, they come together from different times to stop an evil monarch and save a princess, all through the power of words. No, wait...SWORDS!