The Big N released a patch to fix a few bugs in Dr. Kawashima's latest title.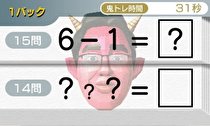 An update for Oni Training on the Nintendo 3DS was made available on the eShop today.
The update fixes two specific bugs in the game, one of which was to correct some answers in Oni Rōdoku (reading aloud). The other update was used to to fix a bug in Oni Mimi Zan, which is a variation of Oni Calculation (in which you have to rely on your memory to see what the answer was to a question asked one or more times previous) where Dr. Kawashima says the problems out loud. The bug would sometimes end your the session before you were finished.
Oni Training, released on July 28 in Japan, is available digitally and as a retail boxed game for 3,800 yen. The game, known as Brain Age: Concentration Training in North America, is set to release in North America and Europe in 2013.