SpotPass is long dead in Japan, but Tobidas, a comedy sketch program, rises from the dead and comes to Nintendo Video.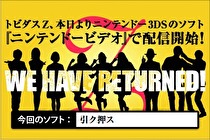 Daily Tobidas, a program that formerly appeared on the Nintendo 3DS on the Japan only SpotPass TV, has made a return to the system on Nintendo Video. Rebranded as Tobidas Z due to no longer being a daily program, the show focuses on comedy sketches mixed with a little bit of talk about Nintendo software. In the first episode that aired starting October 26, Hiku Osu, known as Pushmo in North America, was the focus. The series will see periodic releases on the Nintendo Video service in Japan.
Itsu no Ma ni Terebi (SpotPass TV) was the former home for Tobidas for nearly the whole year of the service's existence before being canceled this past June. Before the service was canceled, the Tobidas staff put together a special one hour program on Nico Nico Video which aired live shortly before SpotPass TV was canceled.