Japan gets their fourth Picross game on the eShop.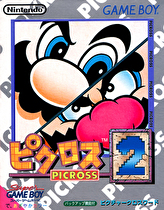 Picross 2, the sequel to Mario's Picross on the Game Boy, is scheduled to release in Japan on the Nintendo 3DS eShop next week on October 24.
The game, which was originally released in 1996 for the Game Boy, adds different sets of puzzles for both Mario and Wario and still stays true to the Picross formula of matching boxes together in an effort to create a larger image. This marks the fourth Picross game to be released digitally on the eShop in Japan with Picross e, Picross e2, and Mario's Picross already available.
Picross 2 will retail for 500 yen. The title has never seen a release outside of Japan.