The hunt gets the full HD experience in both sound and visuals.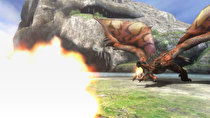 Monster Hunter 3 (tri) G HD Ver., known as Monster Hunter Ultimate in the West, will support full HD visuals running at 1080p on the Wii U. Not only that, but the Wii U version will also utilize Linear PCM 5.1 for sound as well. Players will be able to make use of both of these features using the included HDMI cable included with their Wii U purchase as long as they have the appropriate television and speakers.
Monster Hunter Ultimate for Wii U is set to release on December 8, the Wii U launch in Japan, and in March in the West. Be sure to check out our image gallery for full HD pictures of the game.