Play around with Grannie; she's brought all her toys.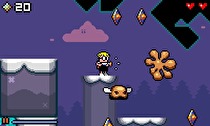 Mutant Mudds' free content update, featuring 20 new levels, will go live on October 25 in North America, and October 18 in Europe, according to Renegade Kid's Jools Watsham. The new levels put the player in control of Grannie, the grandmother of the game's protagonist.
The new stages are all aesthetically based on the Color Graphics Adaptor, IBM's first color graphics card. Grannie can wield all three power-ups earned in the game, and must wield them well if she hopes to find the hidden CGA-Land doors (akin to the V and G-Land doors from the original game).
If players manage to beat all twenty levels, a small bonus will be obtained.
Mutant Mudds is available on the 3DS eShop for $8.99 in North America and for €9.00 in Europe.