Just what is the new content Shin'en promised for this eShop re-release?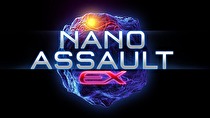 The website for Shin'en Multimedia's upcoming eShop release of Nano Assault, dubbed Nano Assault EX, gave out a few details of the title's new content. Circle Pad Pro support is being added, as is an online leaderboard, and a "survivor mode," for which they provided no further details. Shin'en also promised improved visuals and gameplay.
Nano Assault, which was released by Majesco in December of 2011, is still available in stores. You can read our review of that release here. No release date or price has been announced for Nano Assault EX.
A sequel for the Wii U named Nano Assault NEO is scheduled to launch this November.