The Suda 51 collaboration, Liberation Maiden, is available today in Europe after the Nintendo Direct.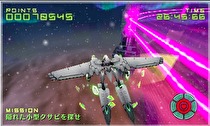 Liberation Maiden, Aero Porter, and Crimson Shroud, three of the games available in the Level-5-created Japan compilation game Guild 01, are coming to the eShop in Europe and North America in 2012.
Liberation Maiden, made with Suda 51, is available on the European eShop right after the Nintendo Direct presentation for €7.99. Liberation Maiden is a shooter about a high school girl who becomes the President of Japan after her father is assassinated.
Aero Porter, from Seaman and Odama developer Yoot Saito, will be coming out in November in Europe. It is an airport simulation game. Crimson Shroud, made with Final Fantasy Tactics and Vagrant Story developer Yasumi Matsuno, will hit the eShop in December in Europe. It is an RPG that is set in a world without magic and is the story of how magic became commonplace in the world.
Rental Bukiya de Omasse, the fourth Guild 01 game, was not mentioned to be released on the eShop.
The North American versions of these games weren't given specific release windows, and will be out "before this holiday season."