Another one bites the dust in Japan.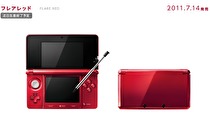 The Flare Red Nintendo 3DS is going to be discontinued in Japan shortly. No specific reason or date was given. The Flare Red 3DS was released on July 14, 2011, the same day that Star Fox 64 3D in Japan.
This marks the second color variation to be discontinued in Japan (outside of limited editions), with the first being the Aqua Blue 3DS which was phased out in late May and early June of this year.