M-rated DS game gets a second run at retail, but now with new box art.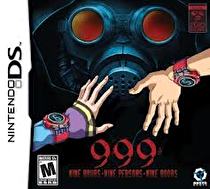 Adventure game 999: Nine Hours, Nine Persons, Nine Doors has received a reprint in North America from publisher Aksys Games.
Initially released for Nintendo DS in 2010 as a limited run, the game was difficult to find at many retailers, with some copies being sold well above the MSRP due to their rarity.
The copies in this new shipment will be adorned with new box cover art showing the game's primary antagonist, Zero.
999, developed originally by Chunsoft, is a visual novel-style point-and-click adventure, notable for its mature themes and branching narrative paths. Its 3DS sequel, Zero Escape: Virtue's Last Reward, which is already out in Japan, will be released in the US on October 23, and then in Europe and Australia, under publisher Rising Star Games, in November.