Former Rareware members have some tasty ideas cooking.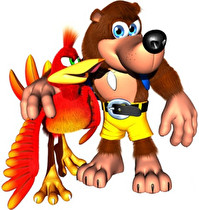 Ex members of Rareware have banded together to form Mingy Jongo, a Twitter account expressing an interest in creating a spiritual successor to their acclaimed Banjo-Kazooie series. The intention thus far is simply to gauge public opinion and build developer interest in the potential project.

Core members of the original Banjo team including music composer Grant Kirkhope and 3D artist Steven Hurst are already invested in the group's activities. The game they're pondering proposes to be a 3D platformer in the vein of Banjo-Tooie, with the same kind of humour, silly characters and fun adventuring gameplay that the series was known for, while still being a new project with a new cast.

If this idea garners enough popularity, a Kickstarter could be initiated to make the game a reality. So far over 5000 followers have gathered. If you want to check out the buzz, head on over to their Twitter page and join in!