They Came by Wave, you bought by bucks.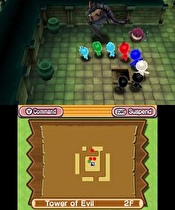 This week's Nintendo Downloads brings us Genius Sonority's The Denpa Men: They Came By Wave, Game Boy's Quarth, and Hitoryi, all for the 3DS eShop. DSiWare gets some love as well with the release of Kart Krashers. Lastly, SNK remembers the existence of the Wii Virtual Console and provides it with the third installment of the Real Bout series.
3DS eShop Games:
THE "DENPA" MEN: They Came By Wave - $9.99
Use your 3DS camera and search the real world around you for strange creatures known as Denpa Men. Once captured, build a party and take down your enemies in this dungeon RPG from Genius Sonority.
Hitori by Nikoli - $4.99
In this next entry in the Nikoli puzzle series, players are able to play some Sudoku, but in a different variation. In Hitori, the 9x9 grid is already filled in and it is your job to replace the numbers that don't belong so you can make each line contain the numbers 1 through 9.
3DS Virtual Console:

Quarth - $2.99
Hey man, you got your Space Invaders in my Tetris! Nuh uh, you got your Tetris in my Space Invaders! Relax guys, you're both right. In this odd Game Boy puzzler from Konami, take control of a spaceship facing off against an onslaught of falling blocks. Shoot these odd, oncoming shapes to make them form a square or rectangular shape, and watch them vanish. This is one game that proves its hip to be square.
DSiWare Games:
Kart Krashers - $4.99
Get behind the wheel of this unique driving game that's just as much about platforming as it is speed. Maneuver your way through its courses, collecting stars and smashing whatever comes in your way. Why? Because you want the highest score possible, and it doesn't come easy. Is it any good? We certainly thought so, read our review here.
Wii Virtual Console
Real Bout Fatal Fury 2: The Newcomers - 900 Wii Points
Despite Real Bout Fatal Fury Special releasing just this past August, Real Bout 2 remains an interesting release. Retaining the visuals from its predecessor, the gameplay actually hearkens back to the first Real Bout title. New to this entry is the ability to play as Geese Howard, and a new take on the series' two-player mode.