DSiWare gets some Club Nintendo love.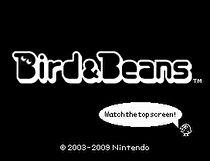 The DSiWare game Bird & Beans is now redeemable as a Club Nintendo reward. The title costs 100 coins and will be available until October 7, 2012.
Bird & Beans is a remake of the mini-game Pyoro found in the GBA's WarioWare Inc.: Mega Microgame$.
Bird & Beans replaces Art Academy: First Semester as this week's latest digital game reward. The WiiWare title PictureBook: Games: Pop-Up Pursuit is also currently redeemable for 150 coins but will only be available until September 30, 2012.