Nintendo's first DLC-enabled title is doing pretty well.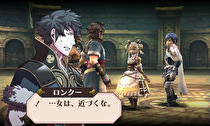 The downloadable content for Fire Emblem: Awakening has brought in 380 million yen (approximately $4.8 million), Computer Entertainment Suppliers Association (CESA) Chariman Shin Unozawa revealed during a presentation at Tokyo Game Show 2012.
Unozawa also reported that 75% of 3DS owners in Japan have connected their device to the internet. This number had risen since the January report of only 60%.
Fire Emblem: Awakening, currently only available in Japan, sold around 1.2 million units since its April 2012 launch. Including the 380 million yen in DLC, the game has brought in about 2.4 billion yes (approximately $30.6 million) total, with the DLC accounting for around 15%.
The first batch of DLC released for the game was a Marth pack that was free for the first month of the game's release. After the initial month, it was sold for 300 yen (approximately $4). There have been many other downloadable characters released for the game since it's April debut in Japan.
Fire Emblem: Awakening is due out in 2013 in Europe and North America.