If it hasn't been made clear yet, Nintendo hates flash cards.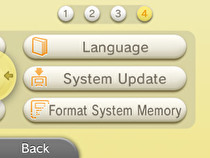 Nintendo released a system update for the 3DS yesterday, one which brings further security against flash cards, and updates both the Nintendo Zone hotspot list and DSiWare firmware.
The update brings the system firmware to version 4.4.0-10U. Officially, the update includes "further improvements to overall system stability and other minor adjustments have been made to enhance the user experience." The update is required in order to access the eShop.
While the update should be pushed out automatically, to update your 3DS manually, go into the System Settings menu. From there, go into Other Settings, then scroll over to System Update.