GameStop will offer download codes printed on receipts, but that's about it.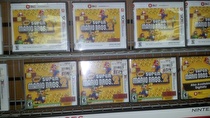 No North American retailers are currently selling or have any plans to sell New Super Mario Bros. 2 download cards, a Nintendo of America representative confirmed to us.
Some retailers are using other methods, such as GameStop printing a download code on a receipt, in a similar fashion to how they provided Super Mario Land, Pushmo, and 3D Classics Kid Icarus download codes. GameStop is only offering download codes in stores, though, as you can only order physical copies from their online store.
In Japan, game-specific download cards have been released, though oddly marked up in price. Europe does not have any New Super Mario Bros. 2 cards.