Get your latest legendary next month.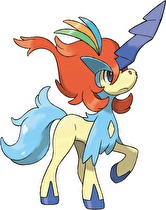 Between September 15 and October 10, Australian Pokémon trainers can download Keldeo, the legendary water/fighting type creature, to their Pokémon Black and White game cards at selected stores.
Both Target and EB Games are participating in the event, and will be distributing the pocket monster with a full move set of Aqua Jet, Leer, Double Kick, and BubbleBeam.
To download Keldeo, you must make sure to have already acquired the PokéDex and have no more than 11 Wonder Cards on your save file.
Once obtained, transferring this Keldeo to the upcoming Pokémon Black 2 and White 2 Versions will unlock an exclusive story event not normally accessible in the game, which transforms Keldeo into a new form and teaches it its signature move.
Pokémon Black 2 and White 2 are set to launch in Australia on October 11 this year.
For a list of participating store locations where you can download your Keldeo, click here.