FarSight Studios tries their hand at Kickstarter once again, this time with a Star Trak table.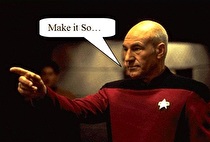 In an effort to bring the Star Trek The Next Generation Pinball Table to The Pinball Arcade, FarSight Studios is asking Kickstarters to pool together and pledge a total of $45,000 to help pay for licensing fees and other costs that make bringing pinball tables such as this one to the game difficult.
FarSight has previously found success through Kickstarter in bringing The Twilight Zone pinball table to the game's list of tables. The company successfully raised $77,500 to help pay for fees associated with that tables licenses, which greatly surpassed their goal of $55,000.
The Pinball Arcade has already been released for multiple platforms including the iPhone, iPad, the Android platform,the Kindle Fire, Xbox 360, PlayStation 3, PS Vita, and Macintosh; and is slated for release on the Nintendo 3DS and Wii U platforms. So far $28,461 out of the goal of $45,000 has been raised with 25 days to go.