Capcom's Shu Takumi gives a status report on the game that is consuming all of his time.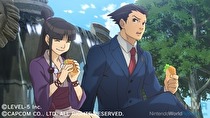 Professor Layton vs. Ace Attorney, which is listed as a 2012 release in Japan, is nearing the end of development, according to Capcom Producer Shu Takumi.
"It feels like everything in my life is now concenterated in Professor Layton vs. Ace Attorney. I can't talk too much about it, but development is going smoothly, so please wait just a little more," Takumi said. "We are developing this together with Level-5, but this game envelops all I do."
Capcom and Level-5 have not confirmed the localization of Professor Layton vs. Ace Attorney, but Capcom's North American branch has teased it in the past. Judging from the past history of both series, it is likely that the game will come over, though, as Ace Attorney Investigations proved, the localization is not a sure thing.