The wet and wild WiiWare title is on it's way to the handheld scene.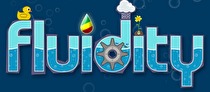 Fluidity: Spin Cycle has been announced for release on the 3DS eShop in Q4 2012.
it is currently not known if this is a port, sequel, or spin-off of the WiiWare title, however the subtitle might indicate that this is a new game based on the mechanics of the original game.
Fluidity for WiiWare, a late 2010 release, was critically well-received, earning a 9.5 out of 10 from Site Director Neal Ronaghan.