Mega Man, Columns, and more Kunio-kun are on the way!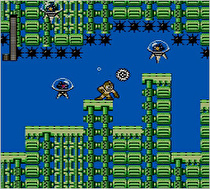 Rockman 2 (Mega Man 2) for the Famicom, Columns for the Game Gear and Nekketsu Kōha Kunio-kun Bangai Randō-hen (Double Dragon II: The Revenge) for Game Boy will be released on the Nintendo 3DS Virtual Console in Japan this week on August 8.
Rockman 2 will retail for 500 yen, Columns for 300 yen, and Double Dragon II for 400 yen.
This week's update brings the eShop Virtual Console and 3D Classic games total to 90 in Japan.