Unfortunately, pricing details have not been announced.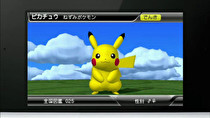 Pokédex 3D Pro is releasing in North America on November 8.
The eShop application is an update to the original Pokédex 3D, featuring all 647 Pokemon as well as all forms existing up to Pokémon Black and White 2. The original application will no longer be available on eShop starting October 1.
It is currently unknown how Pokédex 3D Pro will be priced.