The Wii and 3DS version of the game will see release this October.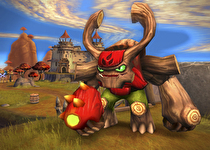 The Wii and 3DS version of Skylanders Giants will release in North America on October 21, and in Europe on October 19, according to CVG.
Skylanders Giants is the follow-up to last years hit, Skylanders: Spyro's Adventure. In addition to using characters from the previous Skylanders game, Skylanders Giants introduces giant characters that also work with your portal of power. You can read impressions of the game from E3 here.
The Wii U version of Skylanders Giants has not yet been given a release date. A release date for the Wii U version of the game will most likely be available after the Wii U's launch details are revealed.