Both titles will be coming in October; the Pokédex 3D Pro app also gets a mention.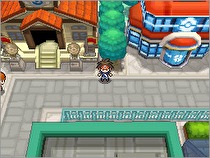 Pokémon Black Version 2 and Pokémon White Version 2 will be launching for the Nintendo DS along with the Pokémon Dream Radar eShop title for the Nintendo 3DS, in Australia and New Zealand on October 11, 2012, Nintendo Australia announced today.
Pokémon Dream Radar is a downloadable title for the Nintendo eShop. The game has the ability to transfer Pokémon that players have caught into Pokémon Black and White 2. Pokémon Dream Radar utilises many of the Nintendo 3DS's functions such as the camera, motion control and augmented reality. The game also allows players the chance to catch rare hard-to-find Pokémon like the new Therian forms of the legendary Pokémon Tornadus, Thundurus and Landorus.
Nintendo Australia has also revealed that the expanded application, Pokédex 3D Pro, will also be appearing on the eShop in the spring, allowing players to see 3D models and read information on all 640 Pokémon.