8-Bit Summer continues with Kid Icarus and Tumblepop, along with a wide assortment of 3DS and DSiWare games.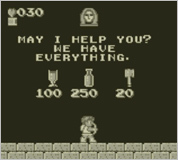 It's another packed week with two 3DS Virtual Console games, two 3DS eShop games, and two DSiWare games. 8-Bit Summer enters its third week, and hey, remember: Wario Land comes out next week! Also, Wario Land 2 comes out in Europe today, so now North America has their next thing to grimace about.
3DS eShop Games:
The Phantom Thief Stina and 30 Jewels - $4.99
Set in a future where thieves and cops use robotic helpers to do their bidding, Phantom Thief Stina is a cross between an action game and a real-time strategy, as you play as the titular thief or Detective Sara, trying to set the other one back by collecting jewels or defending them.
Masyu by Nikoli - $4.99
The latest entry in the Nikoli puzzle series is Masyu, where you have to use black and white circles to figure out how to draw a line through the puzzle. There are 50 puzzles to choose from, and even a random puzzle generator.
DSiWare Games:
Rabi Laby 2 - $1.99
A sequel to a well-received 2011 DSiWare release, Rabi Laby 2 is a puzzle platformer where players must guide Alice past enemies and obstacles with Rabi's help. There are 50 stages (and more bonus stages) in total, and apparently the game has a sense of humor.
Petit Computer - $7.99
Petit Computer is a tool that lets users make their own BASIC programs. Amateur computer programmers can try their hand at making programs using this, and they can even share their work with others using the Nintendo Wi-Fi Connection or QR codes.
3DS Virtual Console Games:
Kid Icarus - Of Myths and Monsters - $3.99
The sequel to the NES game (available as 3D Classic on the eShop), Kid Icarus - Of Myths and Monsters is similar to the original. Once again, you have to find the Three Sacred Treasures and fend off enemies.
Tumble Pop - $2.99
The Game Boy version of the cult arcade hit, Tumble Pop is sort of like a side-scrolling Ghostbusters game, as you use a vacuum cleaner to suck up monsters across eight different worlds. You can even create your own stages, too.
eShop Sale:
Mario's Picross - $2.99 (normally $3.99)
Mario's Picross is the first time Nintendo brought Picross to North America. The Game Boy game might not feature the smooth stylus-using stylings of Picross DS, but it's still a great game, and it's 25% off starting Friday at 12 p.m. ET/9 a.m PT and ending at 12 a.m. ET/9 p.m. PT Sunday night.