Nintendo also detailed some other recent records for their various products.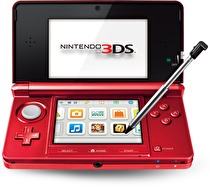 Nintendo of America announced that the Nintendo 3DS has now sold over 5 million units in the United States.
According to Nintendo's executive vice president of Sales and Marketing, Scott Moffitt, the Nintendo 3DS is entering "the next phase of its life," with new hardware and new games coming in the near future. He believes this milestone is a great foundation to build on for the future.
For the month of June, Nintendo also achieved some other milestones. The Legend of Zelda: Ocarina of Time 3D became the third Nintendo 3DS game to sell more than 1 million units. The other two games to exceed 1 million units in sales are Super Mario 3D Land, which has sold 2.1 million, and Mario Kart 7, which has sold 1.75 million.
Two of the top five games and nine of the top 25 best-selling games are on Nintendo platforms. Nintendo has also held a 75 percent market share for the portable hardware sector for the second month in a row in the United States.
Lastly, Nintendo sold more than 400,000 total hardware units in June and has seen double-digit growth across all its product lines when compared to May. The Nintendo 3DS sold more than 155,000, the Nintendo DS family sold over 150,000 and the Wii sold over 95,000 units.