October is shaping up to be a big month for the 3DS in Japan.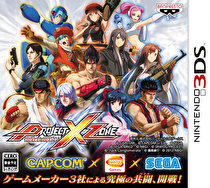 Project X Zone, the Nintendo 3DS crossover strategy RPG featuring characters from Sega, Capcom, and Namco Bandai, is going to be released in Japan on October 11 for 6,280 yen, Famitsu revealed.
Not only was the release date revealed, but five more characters for the game have also been unveiled. Imca (Valkyria Chronicles 3), Arthur (Ghosts 'n Goblins), Rikiya Busujima (Zombie Revenge), Flynn (Tales of Vesperia) and Devilotte (Cyberbots) will be included in the game.
There is currently no word about a release for the title outside of Japan.