A patent application spills the Mario & Luigi developer's beans.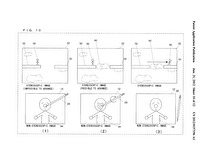 AlphaDream and Nintendo employees filed a patent application for 3DS platformer game mechanics that involve unconventional two-screen gameplay.
On the lower screen is a humanoid character, while the top screen displays a platformer level. Aspects of the character on the lower screen are related to features of the level on the top screen. For instance, a tree might possess branches with an arm-like quality. Moving the character's arm by dragging it with a stylus on the bottom screen controls a tree branch, which when moved, allows the player to progress on the top screen.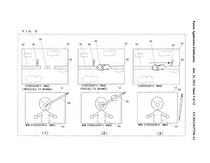 A number of similar mechanics are described where a face appears in a cloud. This face corresponds to the face of the character on the bottom screen such that circling the nose of the character causes the cloud on the top screen to change and fill in a gap. A variety of ways this can happen are described. For instance, the cloud could move from another location, fade into view, become more solid, or move forward in 3D space with the 3DS's stereoscopic feature. This again would allow the player to progress through the level.
The listed inventors are Akira Otani and Toshiharu Izuno from Nintendo and Hiroyuki Kubota and Akiko Sugimoto from AlphaDream. The application was filed on Dec. 21, 2010 in Japan and Oct. 27, 2011 in the US. It was published on Jun. 21, 2012.
The last two published games AlphaDream developed were Mario & Luigi: Bowser's Inside Story and PostPet DS, a sim game that was only released in Japan. The two games released in 2009, and the developer has been silent since. As this patent application was filed in 2010, AlphaDream has had a while to refine the concept, assuming a game involving the mechanic is still under development. No official announcements have been made.