Miiverse will be free to use, plus other information from Nintendo's shareholder's meeting.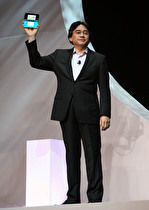 During Nintendo's annual shareholder's meeting Satoru Iwata revealed that the company currently has no plans for additional 3DS models in the near future. Iwata also explained how third party support will be improved, and why Miiverse will be free to use.
When asked whether Nintendo had plans of releasing more 3DS alternate designs, Iwata explained that if the market was filled with too many choices it could confuse consumers. He also expressed concern for how efficiently they could produce a great number of a variety of products. For now the company has no immediate plans to release another version of the 3DS.
Regarding how Nintendo plans on improving the third party situation with Wii U, Iwata explained that third party developers had begun receiving information about the upcoming home console around the same time as Nintendo's own internal development teams.
While discussing aspects of the Wii U's online system, Iwata stated that he does not disagree with the idea of a paid service for access to Nintendo Network from the Wii U and other devices, but he questioned whether it would be the best approach for the company's user base. He pointed out that a free-to-use system would allow more people to utilize Nintendo Network's Miiverse social functionality, which ideally would in turn sell more hardware and software units.
Nintendo currently has plans to reveal additional Japanese Wii U information this fall.