Europe will be able to conquer the kingdoms of Ransei on July 27.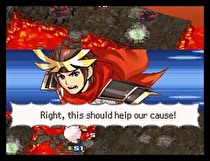 Pokémon Conquest is coming to Europe on July 27, 2012.
Originally released in Japan, North America, and Australia on March 17, June 18, and June 21 respectively, Pokémon Conquest is a Pokémon/Nobunaga's Ambition crossover developed by Temco Koei Games. The crossover incorporates aspects from both series, such as Pokémon's character training and evolution, and the kingdom building and strategy elements of the Nobunaga's Ambition series.