Nintendo of America highlighted a few third-party games during their Nintendo Direct.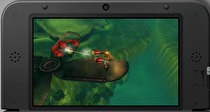 Nintendo of America highlighted several third-party 3DS games during the June 21 Nintendo Direct, including Skylanders Giants, Adventure Time, and Sonic and All-Stars Racing Transformed.
Skylanders Giants, developed by n-Space, was shown off for the first time. It looks reminiscent of the first 3DS Skylanders game, developed by Vicarious Visions. It also includes the Giants and Light Core Skylanders featured in the home console version.
Adventure Time: Hey Ice King! Why'd you steal our garbage? was also shown off. The game, developed by WayForward with series creator Pendelton Ward, is coming this year. No gameplay footage was shown, unfortunately.
Castlevania: Lords of Shadow - Mirror of Fate, Epic Mickey: Power of Illusion (November 18), and Scribblenauts Unlimited, all part of the Nintendo 3DS Presentation at E3, were also mentioned. As was LEGO Lord of the Rings and Sonic and All-Stars Racing Transformed.
Kingdom Hearts 3D, one of the few games with a set release date (July 31), was also highlighted, and a demo was made available in the eShop right now.