Does wireless play suit your fancy? Well, it's about to.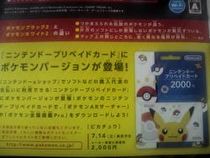 More features and details regarding Pokémon Black and White 2 have been revealed, via a promotional pamphlet posted on a Japanese blog.
First, something called Fes Mission was detailed, allowing the player to experience various wireless missions in the same fashion as the EntraLink ones in Pokémon Black and White, and ultimately getting prizes based on score. The other, Join Avenue, is part of a shopping center allowing the player to build with other players by connecting with them. The extent is unknown, but a player is shown putting up a stand in one of the screenshots.
It was also revealed that a new 2000 yen Nintendo prepaid card is being released with a Pikachu design, which will cover the costs of both Pokémon Dream Radar and Pokédex 3D Pro when they release in Japan. Of course, no western equivelent has been offered thus far.
Pokémon Black and White 2 comes out in Japan on June 23.