And they said we had to wait until Tuesday for the important news!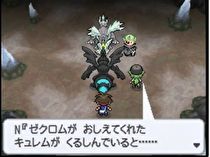 Pokémon Black and White 2 have a new trailer recently aired on Japanese variety show Pokémon Smash that officially reveals, among other things, the return of antagonist Ghetsis as well as N.
In the trailer, N and his Zekrom are shown facing off against Ghetsis and Kyurem, with the male protagonist behind the Zekrom. The screenshot is of Black 2 (though one of White 2 with Reshiram does exist), and suggests that N's Zekrom may have something to do with the Kyurem turning black in Black 2. The trailer also revealed a location where the player travels in the rafters over a warehoused airplane.
In addition, a completely separate trailer was shown focusing on the female protagonist, but less information can be grasped from it.
Pokémon Black and White 2 come out June 23 in Japan.