This retail-to-download release has a listed price.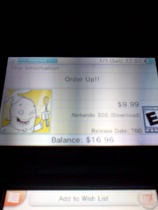 When Order Up!! releases on the eShop in a few short weeks, it will be priced at $9.99, according to the game's listing on the Nintendo eShop.
Last month we learned that the game was coming to the eShop as a downloadable title instead of getting a retail release as initially planned. The game's demo hit the eShop today and revealed this information, but its release date is still listed at TBD.
Nintendo's website, however, shows that the game will launch on June 21. We will hopefully get a confirmed date soon.
Thanks to Branden for sending in a news tip.