Batman, Superman, and Wonder Woman will duke it out with villains on Wii U in 2013.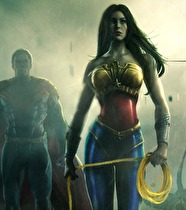 Injustice: Gods Among Us, a fighting game based on the DC Universe and developed by NetherRealm Studios, is coming to Wii U in 2013.
The game pits DC heroes against villains, and features a roster including Batman, Superman, The Flash, Wonder Woman, Lex Luthor, Harley Quinn, and Solomon Grundy.
NetherRealm is no stranger to the DC Universe, having made Mortal Kombat vs. DC Universe in 2008. The company's most recent game was Mortal Kombat, which just came out on Vita.