It will launch on 'Nintendo digital platforms' later this year.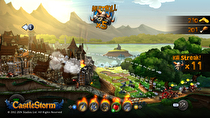 CastleStorm, a hybrid of tower defense, real-time strategy, and physics-based destruction, will come to Nintendo download platforms later this year courtesy of Zen Studios.
Set in medieval times, the game has you defending your castle against waves of enemies attempting to capture your flag. To do so, you use a variety of the weapons at your disposal, including both explosive projectiles and ground soldiers you can send out.
More information on the game will be revealed at E3, and it is expected to launch later this year.