The classic title will be available to everyone on the eShop.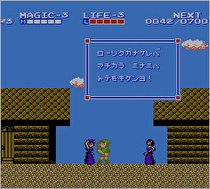 Zelda II: The Adventure of Link is coming to the Nintendo 3DS eShop in Japan next week on June 6 for 500 yen. The game, which was part of the Nintendo Ambassador program, was originally released to 3DS owners for free last summer.
The Japanese version of the game is based on the version released for the Famicom Disk System. In Japan, Zelda II was never released on a Famicom cartridge. There are currently no details about an eShop release outside of Japan.