A LinkedIn profile suggests that development on the Wii U first-person shooter began in September 2009.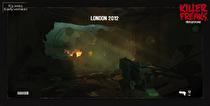 Yoan Fanise, current audio director of Ubisoft Singapore, worked with Ubisoft Montpeiller from September 2009 to October 2010 on Killer Freaks from Outer Space, a Wii U exclusive that was revealed at E3 2011, according to his LinkedIn profile.
Fanise went from doing audio work with Rabbids Go Home, a November 2009 Wii release, to doing "Pre production audio direction, Sound effects creation, Music and voice direction" on what is referred to as Killer Freaks - Wii U. Following his work on Killer Freaks, he left to head up Ubisoft Singapore's audio department on Ghost Recon Online and Assassin's Creed III, both also coming out on Wii U.
There still hasn't been a confirmed date for when Wii U was shown to publishers and developers, but it's possible that Ubisoft has been working on Killer Freaks in some capacity for nearly three years. We do know that Ubisoft has been working closely with Nintendo on the Wii U, as evidenced by last year's Nintendo-hosted Ubisoft developer spotlight.
Since the work done was all pre-production, the most likely scenario is that Nintendo discussed concepts of what the new system was going to be, and Ubisoft worked within some general parameters to create a new IP for the system while building certain assets, like audio, that wouldn't be altered because of the specifics of the control interface.
Supererogatory's follow-up to this LinkedIn profile's discovery was that it was likely a typo. That is likely not the case, considering that everything else Fanise has worked on seems to neatly fit around the work he did for Killer Freaks.