AR Searcher has got a shiny new title!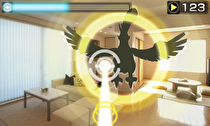 Pokédex 3D Pro and Pokémon Dream Radar (formerly Pokémon AR Searcher) have been confirmed (or in Europe's case, reconfirmed) for both European and North American release this fall.
Pokédex 3D Pro, the downloadable replacement to Pokédex 3D, will be coming out with the release of Pokémon Black and White 2. The replacement will feature every single Pokémon and form, with all of them being already unlocked. Features in the new application include: Move Dex, Pokémon Challenge (a new feature), Album, AR Viewer, and Pokédex.
Pokémon Dream Radar is an eShop title, and is fully compatible with Black 2 and White 2. The game allows the player to capture Pokémon using the 3DS AR functionality, and captured Pokémon can then be transferred into Pokémon Black and White 2. As reported by Serebii, the game takes place in Dream Valley (what Professor Burnett studies). The download of Pokemon into Black and White 2 from the application has also been revealed to occur directly through one 3DS console.