Aside from that, Kid Icarus: Uprising, Mario Party 9, and the 3DS sold well in one of the worst gaming sales months in recent memory.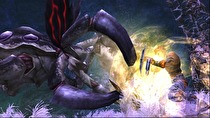 Xenoblade Chronicles, released exclusively through GameStop and Nintendo's website in early April, wasn't factored into this month's NPD sales because NPD does not release retailer-exclusive sales data. In general, due to very few major releases, the month of April was a slow sales month for the industry.
That didn't keep the 3DS down, though, as NPD Industry Analyst Anita Frazier said "One thing to keep in mind is that the 3DS has outsold the DS by about one million units in their respective first 14 months in the market, and the DS went on to become the best-selling gaming hardware system ever."
On the top-selling games list, Mario Party 9 was the only Nintendo-exclusive title to chart on the top 10, coming in at seventh. Other Nintendo releases to chart were Modern Warfare 3 (third), NBA 2K12 (fifth), and Just Dance 3 (ninth).
Kid Icarus: Uprising, which came out in late March, was among the top 10 individual releases for the month (NPD reports sales of all platforms a title comes out on as one number), selling around 83,000 units. Spirit Camera, which came out in mid-April, reportedly sold around 6,500 units.
The sales of points and subscription cards, however, were up 75% from last April, highlighting the industry's move to the digital marketplace. Also, Skylanders characters are still selling a whole bunch. "The three character pack SKU's have sold just under 10 million units in the U.S. since their launch into the market last October," Frazier said.
Overall, video game sales were down 32% compared to last April. Frazier said that part of the reason for the lackluster sales was because Easter was in the first week of April this year, compared to last year where it was later in the month. "We usually find that Easter-related purchases generate an extra 10 percent in revenue in the month they occur, so some of the softness compared to last April could be attributed to the shift in Easter timing."