Join Finn and Jake on adventure to find stolen trash.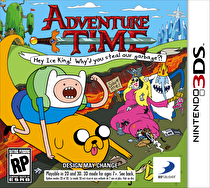 Adventure Time: Hey Ice King! Why'd you steal our garbage?! was officially announced for both the Nintendo DS and Nintendo 3DS through a press release today.
An Adventure Time game was teased over Twitter by the shows creator this past March. At the time we knew the game was coming to the DS, but not whether it was heading to the 3DS. Now the game is officially heading to both systems later this year during the fall.
In the game you play as Finn and Jake in an adventure across the Land of Ooo while trying to teach the Ice King a lesson. The Ice King has stolen their trash and is constructing a Garbage Princess.
The Adventure Time video game is being developed by WayForward and will be published by D3Publisher. It is expected to be at E3 2012 in June.