Just heard this on the grapevine...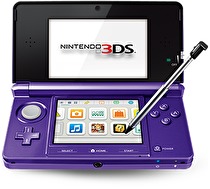 The 3DS will get a new Midnight Purple version in North America next month, Nintendo announced today.
The new grape-flavored variant is the fifth handheld color to join its multicolored brethren of Cosmo Black, Aqua Blue, Flame Red, and Pearl Pink since the system's launch last year, and will be hitting stores in the US on May 20, the same day that Mario Tennis Open launches. The retail price will be $169.99.
No mention of this color has yet been made by Nintendo in PAL regions. The most recent 3DS color to hit Japan is the trendy, dark Cobalt Blue version.