A leaked trailer shows off near-field communication adding Rabbids and Assassin's Creed characters to the game.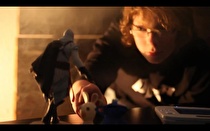 Ubisoft responded to the leak with the following statement:
"An internal video showing images of Rayman Origins' sequel has leaked over the Internet. This video was intended as a purely internal demonstrative video, and in NO way represents the final game, the final console or their features.

This video was destined for internal production teams who often create game prototypes with work in progress development kits. Ubisoft confirms the development of Rayman Legends handled by Michel Ancel and his team in Montpellier."
Original Story: Rayman Legends will have Wii U-exclusive features including multiplayer support using the Wii U controller, and near-field communication that lets you bring items and characters into the game using figures.
A leaked E3 trailer revealed the sequel to Rayman Origins, which also adds new characters, online play, and competitive multiplayer modes. The revelation in the trailer, though, was that the game is coming to Wii U and will support several Wii U features.
The major reveal was that it will support near-field communication. The trailer showed a heart figure being placed on top of the Wii U controller to give the in-game characters more health. Then, a Rabbid figure was placed onto the tablet, which added the zany characters to the game as enemies. The trailer ended with the player looking at an Assassin's Creed figure, hinting at the fact that Ezio Auditore might be coming into Rayman's world. It appears that this feature can be used both when the Wii U controller is actively used and when it isn't being actively used (e.g. the player is just using a Wii Remote).
The trailer also showed three players playing the game using Wii Remotes, while a fourth uses the Wii U controller to alter the environment. In the trailer, it's only shown as moving platforms up and down, though.
Rayman Legends is likely coming out later this year, but we'll probably have to wait until E3 2012 for any kind of confirmation. Ubisoft's press conference is on Monday, June 4.